April 2, 2020
Telemedicine visits are live!!!
We are now offering secured video chat Telemedicine visits with our Doctors. This will allow our Doctors to assess your progress and make recommendations/referrals virtually using just your cellphone.
We are currently calling our existing patients to schedule them. Please don't wait for us; you can call the office now at (716) 847.1200 and schedule immediately.
Due to reduced workforce and required Social Distancing, please be aware your favorite Doctor may not be available for the first Telemedicine visit we schedule for you. After that one, we will make every effort to schedule your follow-up with the Doctor of your choice should you have a preference.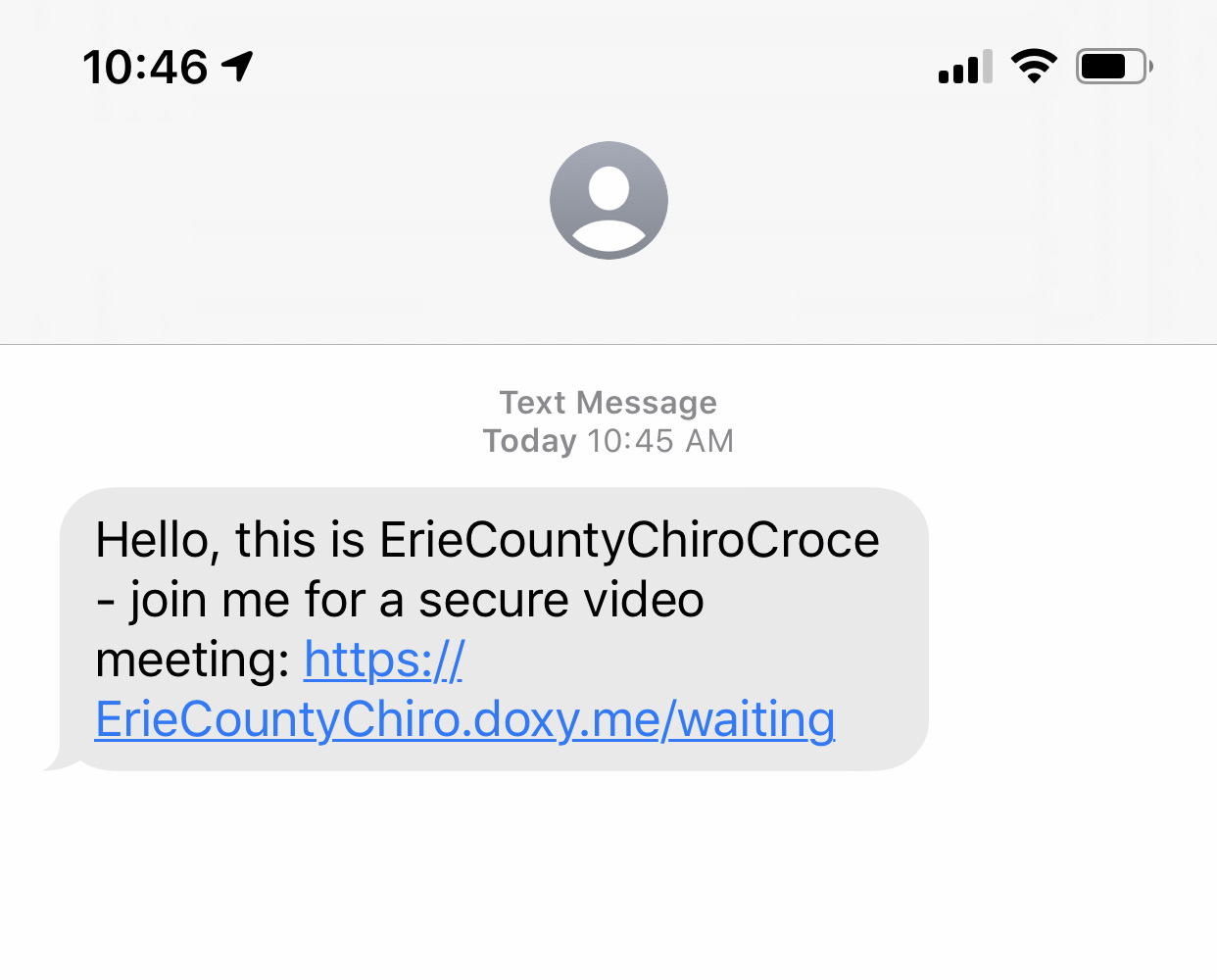 Interactive video/audio is the best way for staff here at Erie County Chiropractic to serve your healthcare needs and keep everyone safe in these challenging times. Of course, we're here for you; if urgent need arises or you experience a new injury, please call the office 716.847.1200 for further instructions.
In the meantime, call the office to schedule your telemedicine visit with our Doctors today. We look forward to "seeing" you all virtually Monday-Friday between 8:30am-5pm.
Also, please be aware that we are implementing some new policies should you be seen in in the office for urgent care.
Front Door Screenings:
To properly assess staff and patients, we are beginning front door screenings in the next several days. We are currently in the process of obtaining the proper equipment needed to conduct these screenings safely. *Please leave everyone else at home or in the car during your visit; we are not allowing anyone to accompany you during your visit. Translation, if necessary, will occur via GoogleTranslate or via cell phone call with your translator during your visit.
We will be taking the temperature of each individual entering our buildings, and inquiring on other COVID-19 symptoms. It's our goal to ensure those needing in-person care are receiving it in a safe environment, and that our staff remains healthy to care for our patients.
Please Be Prepared For The Following Questions:
Please be prepared as our staff will ask you the following questions prior to scheduling an appointment and when you come into the office;
Do you feel ill or unwell?
Do you have fever, cough, shortness of breath, upset stomach, loss of sense of smell or taste, or is your nose stuffy/running
Have you been tested for COVID-19 or ordered to stay at home because you are suspected of having COVID-19, even if you're not sick at present?
Have you been around anyone who is sick or not feeling well in the past 14 days?
Have you been around anyone who is suspected of having COVID-19 or has been tested in the past 14 days?
Have you been around anyone who has had contact with someone else who is sick or has been tested for COVID-19, in the past 14 days?
If you answer "yes" to any of the questions, we will ask that you abide by the New York State Department of Health MANDATORY order to return home AND stay home, and to contact your Primary Care Physician or Emergency Services. If you feel sick, have any of these symptoms or have been around someone who is sick, please do not further expose yourself or others, including staff. Please abide by the order to Self-Quarantine/Isolate and contact your doctor.